Product Description
(product ships immediately)
Our most popular product is back finally.  Great for hyperpigmentation and discoloration in between thighs, under arms, and even knees and elbows.  We revamped it for easier shipping and better packaging.  Due to covid it took forever to get this back in stock. Be warned this is limited we will restock but not sure how long it will take for a restock to happen so get your supply while it's here. 
How to use:
Wash treatment area with soap, lather, rinse with warm then cold water, pat dry.
Apply a small amount of cream to the treatment area and massage in.
Inner Thigh Lightening Soap Ingredients 135 g
Cocos Nucifera (Coconut) Oil, Purified Water, Sodium Hydroxide, Grapeseed Oil, Sunflower Oil, Lactic Acid, Claire Blanche, Fragrance, Glycerin, Sodium Lactate, Sodium Gluconate, Kojic Acid & Glycolic Acid & Potassium Azelaoyl Diglycinate & Sodium PCA & Glycerin, Papain (Papaya) and Orange no. 4 (CI15510)


Due to the Natural ingredients: Orange color can vary from batch to batch
Inner thigh lightening Cream Ingredients. 50g
Aqua, glycerol monostearate, cetearyl alcohol, stearic acid, caprylic/capric triglyceride, cocos nucifera oil, sweet almond oil, rosehip oil, lactic acid, zinc pca, witch hazel oil, kojic acid, glutathione, glycyrrhiza glabra (licorice) root extract, triethanolamine, phenoxyethanol, fragrance
Discontinue use if irritation or redness occurs. 
Final Sale. 
SHIPPING
ORDER PROCESSING/SHIPPING TIMEFRAME
All domestic orders are processed and shipped within 3 to 5 business days using standard shipping. You will get a notification email as soon as your item is shipped with a tracking number if one is available from USPS. Please note that we have no control over transit times. Shipping times are still being disrupted due to Covid, so please allow 7-10 days to receive your item after submitting your order.
SHIPPING FEES
Shipping fees will be calculated at checkout. Orders over $150 qualify for free standard shipping.
CHANGE OF ADDRESS
Please ensure that your billing and shipping addresses are correct prior to completion of your order. Due to cardholder security, we will no longer update shipping addresses.

UNVERIFIABLE ADDRESSES
Should we have problems verifying your address using the USPS tracking system, your order processing may be delayed. Please use the same formatting that the USPS uses when delivering your mail. Include apartment or suite Numbers and always make sure you are using the correct zip code and city.

'RETURN TO SENDER'
Packages that are 'returned to sender' due to incorrect shipping information provided by customer, the customer will be contacted and item will be mailed to customer at the cost of the customer.

TRACKING SHOWS DELIVERED, BUT I DON'T HAVE MY ORDER WHAT SHOULD I DO?
Please contact your local USPS post office providing your tracking details. If your package is confirmed as lost or stolen, please initiate a Lost/Stolen package claim with UPS/USPS. We will not replace UPS/USPS confirming package(s) delivery.

ORDER CHANGES / CANCELLATIONS
We begin processing your order immediately upon receipt. For this reason, we will not be able to cancel or change your order once you have submitted it.


INTERNATIONAL SHIPPING
We do not offer international shipping at this time.
GUARANTEE
EXCHANGE/RETURN POLICY
All of our items are Final Sale. We thank you for your humble understanding regarding this matter. We do not accept refunds, returns or exchanges of any kind.
Please read the product description to ensure you're ordering the correct size.
ORDER CHANGES / CANCELLATIONS
We begin processing your order immediately upon receipt. For this reason, we will not be able to cancel or change your order once you have submitted it.
Size Guide
Choosing the Best Size For You
Please review the sizing guide below carefully before placing your order.  
| | | | | |
| --- | --- | --- | --- | --- |
| | 1X | 2X | 3X | 4X |
| BUST | 43 - 45" | 46 - 48" | 49 - 51" | 52 - 54" |
| WAIST | 36 - 38" | 39 - 41" | 42 - 44" | 45 - 47 " |
| HIP | 46 - 48" | 49 - 51" | 52 - 54" | 55 - 57" |
What do I do if all my measurements don't match the same size?
If not all your measurements match one single Garnerstyle size, the best thing to do is pick your biggest size for the garment.  For example, if you're buying a dress and you're a 3X Bust, but 2X Hip - go with the 3X size.   If you're buying some new jeans, pick the biggest size from your waist or hip measuments.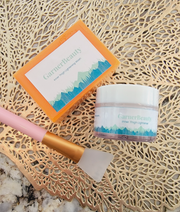 Copy of Hyperpigmentation & Inner Thigh Lightener Bundle
Fast Shipping
Garner Quality Approved
Secure Checkout